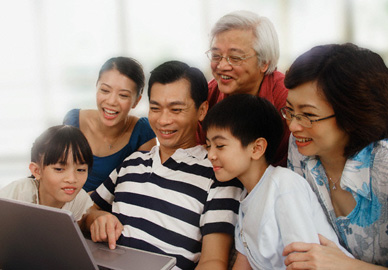 The Lower East Side Family Union (LESFU) is a leader and innovator in providing community-based services and family support, dedicated to preserving, strengthening, and empowering families.  As one of the first organizations established to prevent foster care placement in New York City, LESFU was among the first to address the connection between poverty, culture, and language barriers.  For nearly 50 years and contracted by the NYC Administration for Children's Services (ACS), NYS Department of Health (DOH), LESFU has provided a continuum of specialized services to families in the boroughs of Manhattan and Queens aimed at promoting social and emotional well-being. Our programs and services equip our families to break cycles of intergenerational poverty, multi-system involvement and foster care placement.  Today, informed by rigorous research and highly qualified staff, LESFU programs promote the safety and well being of approximately 1,000 children annually.
Solution-Based Casework (SBC) is the current case management practice model for families receiving LESFU services. SBC is an evidenced-informed model that prioritizes working in partnership with families, focuses on pragmatic solutions to difficult situations, and notices and celebrates change. Most importantly, SBC targets the prevention skills needed for case management providers and families to reduce the risk in everyday life situations.
For additional information regarding SBC, please visit www.solutionbasedcasework.com.
DIVERSITY, EQUITY, AND INCLUSION! Lower East Side Family Union as a government-partnered provider of human services in the city of New York recognize that systemic racism is embedded in our nation's institutions. We began as an organization to reduce foster care placement of immigrant and minority children and quickly became the national model for preventive services.
Team LESFU will continue to work to dismantle the structural inequity and injustices of our society. We are committed to racial equity and social justice, in both our words and our actions.
PRESERVE, STRENGTHEN AND EMPOWER!
---
EXECUTIVE DIRECTOR
APRIL L. PHILLIPS, LMSW, MS
PROGRAM DIRECTOR
LATIEFA HOOK, LMSW
PROGRAM DIRECTOR
RANDEE LAROCCO, LMSW
Board of Directors
ELIZABETH PAVONE
CHAIR
King & Spalding LLP
MOSES AWE
Hercules Capital, Inc
THOMAS PASKOWITZ
Sidley Austin LLP
LAUREN AUSTIN
NY Presbyterian Hospital
PRAMIT MITRA
Credit Suisse
NICHOLAS SPEZIO
Exbo Group, New York
Advisory Council
ELIZABETH GALLUCHI, ESQ
Ropes & Gray, LLP
CARLA TRIPLETT, Psy.D
The Berkley School
JENNIFER HAVENS, MD
NYU Langone Health, NYU Child Center